Here's my latest recording and a glimpse into the new sound of Strange Majik coming in 2016! I've gone back to the blues and revisited this tune from the Dead Exs catalog. It's always been a favorite at live shows this last year and I wanted to take a minute to share it with ya. Hope you dig it! I got the help of some really great musicians on this one. Here's the credits.
Guitar/Vocal – David Pattillo aka Majik
Upright Bass – Chris Gaskell aka Baby GSauce
Piano – Sean Spada aka Quilo Johnson
Drums – Dillon Treacy aka Billy D
Backing Vocals – Mollie King and Briana Layon
Recorded and Mixed by David Pattillo at Rivington 66 in NYC.
©2015 David Pattillo
<
Tuesday nights at the Tribeca hot spot Belle Reve are becoming a Manhattan mainstay. Some people say its a refreshing throwback to old New York, some say its got a New Orleans feel and some say it's like quaint Paris brasserie….one thing is for sure it's got a great laid back vibe and of course great music. Tuesdays began with Strange Majik performing solo with a gogo dancer and have evolved to a full band featuring an upright bass and piano added to the mix. It has grown into a great musical evening of jams and suprises with special guests. Even Kanye West and Kim Kardashian showed up! Live and unleashed every Tuesday from 10pm -1. Belle Reve 305 Church St. New York City.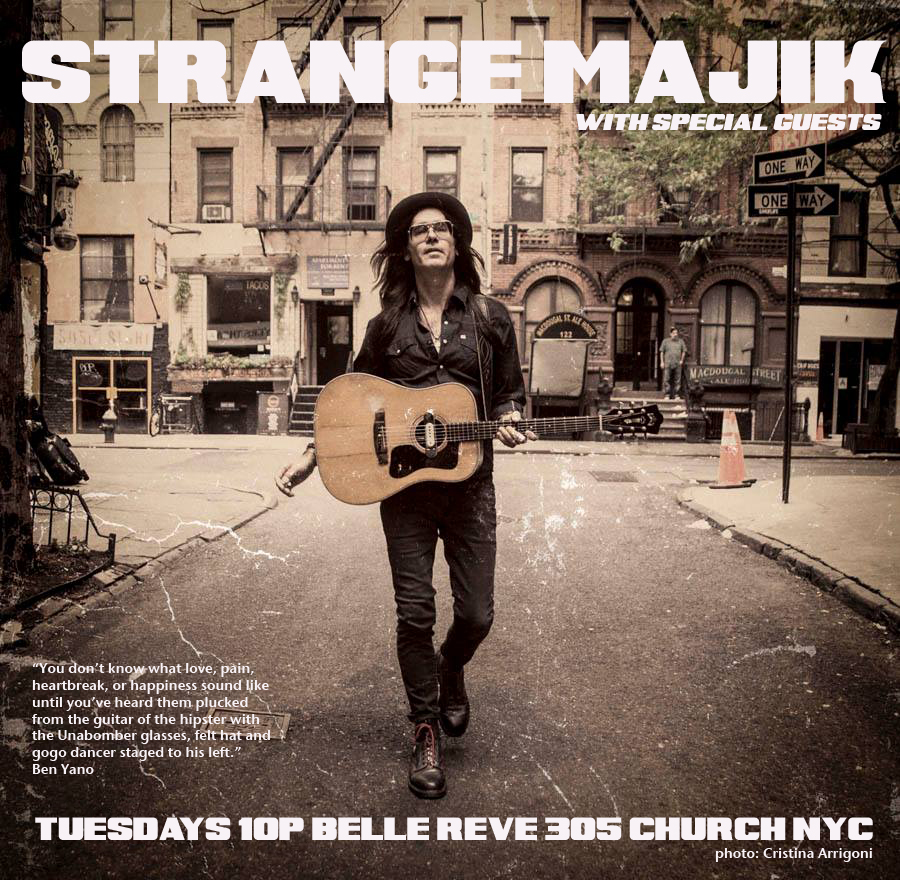 New York City's The Dirty Glamour resurfaces with this ode to Lo-Fi, math rock and your Mommy issues.
Take a look the the keynote from today and see what the new Music app is all about.
Watching David Pattillo (who goes by the moniker "Strange Majik") perform makes you want to fist bump to the tune of rebellion and replace your bedroom door with beaded curtains. Exuding bona fide rock n'roll from his music to his attitude to his shoes, my good friend continues to add to his arsenal of skills by releasing a record called Lights On featuring a coterie of talented singers and rappers that begun to fester after a walk home from his Nolita studio. Ever since I met him at a Rolling Stones tribute show in Bowery a few years ago, I've been captivated by his energy and crippled by jealousy of his long, luscious locks. WHAT IS YOUR SECRET, DAVID? What otherworldly oil do you use to make your hair shine like a brand new solar panel?! But I digress! In addition to fronting rock n'roll group The Dead Exs, the Emmy-nominated producer and musician has teamed up with a slew of fresh New York City talent to produce a 10-track record that transcends genre from an array of decades. I sat down to have a conversation with my buddy and it went a little something like this:
"For me vinyl has always brought controversy, rebellion, love, hope, philosophy, sex, truth, irony, and mind expansion. From making up dances to Beatles tunes on my sister's close n' play as a toddler, to dropping my new 180g Lights On white vinyl on my vintage Dual turntable, it never ceases to amaze. My dream as a young musician would not be realized till I saw the needle meet the spinning platter and play my song… and now that day is here… a long time coming." Continues here
 A random night of music goes from zero to 60 in a matter of seconds…..this is what NYC is all about. Gotta love the Belle Reve beautiful dream. Strange Majik was performing his solo blues with Velvetiina Taylor groovin her gogo moves and look who showed up….it even broke the Strange Majik personal Facebook forcing him to become a business page.
Bang Bang Boogaloo presents The Strange Majik Family Jam featuring Phaseone, Eli Black, LaToya Kennedy, Fiona Silver, and Valerie Broussard celebrating the LP release of Strange Majik's "Lights On."
Special guests: Carleigh Jade, Kiah Victoria, and The Montauk Project.
Tickets $8 ADV/$10 Door
Lineup:
7: The Montauk Project
https://www.facebook.com/themontaukproject
8: Carleigh Jade
https://www.facebook.com/CarleighJadeMusic?fref=ts
9: Strange Majik Family Jam
http://www.strangemajik.com/
10: Kiah Victoria
https://www.facebook.com/kiahvictoria?fref=ts
Drinks and Dinner follow with after party late night jam at
Belle Reve – 305 Church in Tribeca
Hats, hair and heels encouraged
As promised the new Strange Majik "Lights On" LP is here. In lovely audiophile quality 180g white vinyl this is how this record was meant to be heard. We just got this pic from our label in the UK and wanted to share our excitement!!
Important information for buyers from the USA. As long as you're happy with a slight delay for shipping, you can now use the "UK" shipping option for your orders, and I will arrange for the albums to be shipped to you from within the US. Order more than one album from America and there will also be a refund. HUGE SAVINGS!
So we are huge fans of the h1tchr album credits app on the Spotify desktop client as well as apps from KCRW, MusiXmatch, Pitchfork, Bluenote and many others. This week Spotify forced a new update which removes the App Finder and all third party apps from the client. Its an unfortunate reality and we were really bummed when our apps were suddenly gone.
Thankfully we did a little digging and we found cool kid Javier Santos post a super nice fix. He's even going to tell you how to rollback the Spotify version with the App Finder and disable the automatic updates! Sweeeet. We recommend you google search for latest installer that includes app finder: Spotify 0.9.15.27. Install that first then use his instructions to disable auto updates. Working here!
Here's a more complete walkthrough with links to the DLs from WIRED UK